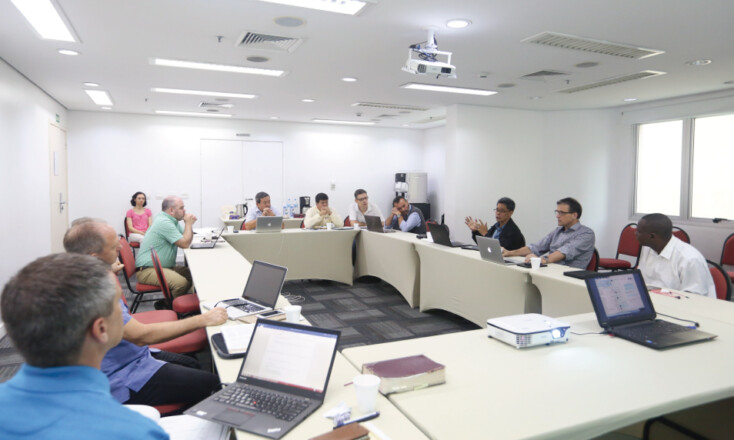 In March 2017, the AWF Executive Committee (ExCom) appointed new members to the AWF International Commission on Theological Education (AWF-ICTE). This newly formed ICTE will work to unite AWF member regions and facilitate global exchange to bring consistency and depth to the Alliance community's theology, identity and practice.
The new AWF-ICTE members (two per region):
Bernie A. Van De Walle, professor of Historical and Systematic Theology of Ambrose University, Canada
Daniel Ronda, president of C&MA Indonesia and former rector of Jaffray Faculty of Theology – Makassar, Indonesia
Issiaka Coulibaly, president of FATEAC – Faculté de Théologie Evangélique de l'Alliance Chrétienne, Côte d'Ivoire
Jack Sara, president of Bethlehem Bible College, Holy Land.
Marco Wittenberg, senior pastor of CAMA Church in Amstelveen, Netherlands
Miguel Palomino, rector of FATELA – Facultad Teologica Latino-Americana de la Alianza, Peru
Peter Laughlin, dean of Alliance Institute for Mission of the Australian College of Ministries, Australia
Ronald Walborn, dean of Alliance Theological Seminary and the College of Bible and Christian Ministry, Nyack College, United States
Tona Khonde, president of the Complex of Theological Training of Bethel, Gabon.
Walter Perez, director of Instituto Biblico Buenos Aires and senior pastor of Vicente Lopez Alliance Church, Argentina
The AWF ExCom appointed Dr. Bernie A. Van De Walle as the new chairman of the commission.
We would like to thank Dr. Miguel Angel Palomino, the former chairman, for his dedication and commitment to the ICTE mission. He will continue to contribute to ICTE as one of the Latin America's representatives.
Please, continue to pray for this commission as they develop this important AWF ministry.