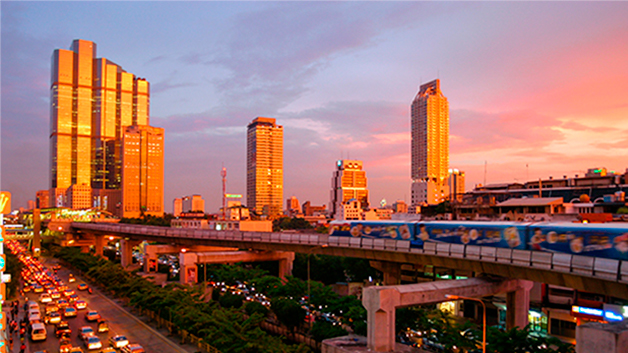 Thailand
Thailand Christian and Missionary Alliance
President: Rev. Nipon Luang-Ngern
Pradipat Road Soi 13 in Bangkok
Phone: 66-2-618-3596
The Thailand Christian and Missionary Alliance (TCMA) is very thankful to God for His grace and work in the country of Thailand through C&MA missionaries for over 85 years. In comparison to other areas of Asia, evangelistic efforts in areas where the TCMA serves have been slow to bear fruit. However, relationships among various religious groups in Thailand are good. We are able to live and work together in peace. Religious persecution is not an issue under the leadership of the King of Thailand who promotes religious freedom throughout the country. As the TCMA reflects on the spiritual beginnings of missionaries who came to spread the Gospel in Thailand 85 years ago and celebrated their first group of believers meeting together 67 years ago, it is encouraging to see that we have now grown to 160 churches with 12.200 members, 115 workers and 13 leaders who serve in upper level positions in Christian organizations! Our hearts are strong and ready to serve in the midst of challenges.
Getting to know the Thailand Christian and Missionary Alliance
The work of the TCMA covers a very large area of the country. Churches, districts and provinces are physically far apart from each other. TCMA members are from many different cultures including central Thai, north-eastern Thai, Thai Hmong as well as several other smaller people groups. Churches located in small villages distant from one another and far from major cities lack adequate support physically and spiritually as well as sustainable leadership. Churches located in larger cities are made up of people from all walks of life including workers from the provinces as well as those who have grown up in the city. Background, education and social differences among church members are challenges that city churches face as they grow and establish themselves in their communities. The TCMA is committed to facing these challenges and turning them into blessings by increasing awareness and understanding of our differences and thereby enable us to move forward in ministry together.
Major Ministries of the TCMA
1. Leadership development is at the heart of our work. We want to see that every local church has a leader that is supported by that church.
2. Church planting has been our vision and desire throughout the decades and we continue to work hard in this area.
3. Small group ministries are encouraged and given freedom to develop. Women and youth ministries are very organized and active in initiating and supporting the work of the TCMA.
4. Meetings and seminars are organized to build relationships with one another and create unity throughout the TCMA. Each year the TCMA organizes meetings for its leadership as well as seminars and activities for church members.
5. Management of assets under the TCMA is very important. We are always mindful of God's grace in providing for our needs. God has given us several pieces of land and many church buildings which we develop and manage.
Income received from investments is used to encourage our churches financially and spiritually.
Theological Education
We are challenged in the area of theological education because we have few workers. We have an established center of theological education ready to raise up leadership for our churches. We encourage leaders and future leaders to study and continually have an increased enrollment. The TCMA also has several programs for leadership development in the local churches. We work together with C&MA missionaries and other organizations to build up new leaders.
World Missions
Thailand is behind in sending missionaries but we thank the Lord that in the past 10 years our leaders have made it a priority. Presently we have 3 missionary families working among Thai workers — 1 family in Taiwan and 2 families in South Korea. We are planning to send more missionaries under the support of the Thai church. Our desire is to work with other countries sending missionaries who have the same vision. At the same time we are mindful of foreign workers in our own country such as the Burmese, Lao, Vietnamese and Cambodians. Our leadership is planning to start international churches to reach these people for the Lord in the near future.
THE STATISTICS (2015)
101
Total Organized Churches
59
Total Unorganized Churches & Church Planting
12.200
Total Inclusive Membership
115
Licensed Ministers (Unordained)
6
Missionaries / International Workers
2
Number of Bible Colleges & Seminaries
Number of TEE (Extension) Programs
74
Total Residential Students
Total TEE Program's Students
Include more lines for other statistics
Prayer Requests
• Preparing and raising up the next generation of Thai leaders
• Plan to plant 30 self sustaining churches per year
• Expanding our work to include churches for foreign workers in Thailand
• Spiritual growth of our members
• Providing more opportunities for the women and youth to serve with the TCMA
• Administration development