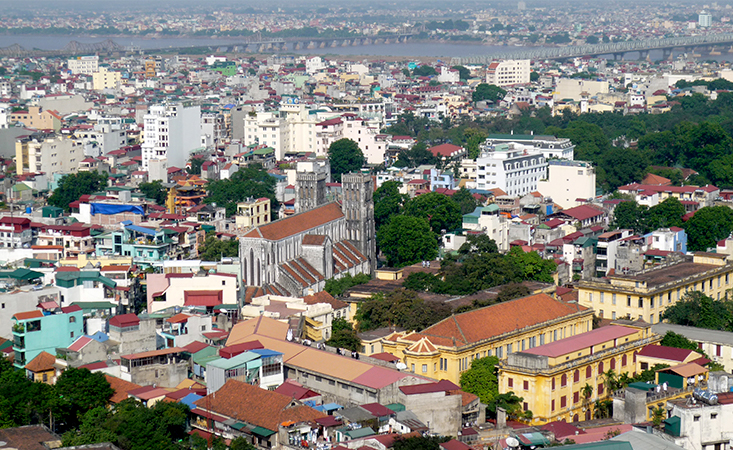 North Vietnam
The Evangelical Church of Vietnam
President: Rev. Mac Huu Nguyen
02 Ngo Tram Str., Hang Bong, Hoan Kiem, Hanoi
I. Good News of Jesus preached to Vietnam since 1911
The church was first established in Da Nang, a port City in the center of Vietnam. From here, Gospel was spread to the North and the South; many churches were established. In 1915, Hanoi Evangelical church was set up; in 1916, churches were set up in Hai Phong, Nam Dinh, Hai Duong, Thai Binh, Vinh Phuc, Thai Nguyen, Lang Son
II. In 1954 The church was divided according to geography — (North and South).
Because of war, the country was divided into 2 parts, the North and the South, and the church also was divided into two regions. In the South, we established General Evangelical Church Management Board; in the North, Church Management Boarch was established. Last years, Gospel had strong growth in the South; however, in the North, it had a very slow growth. Until 1987, there were 15 official churches, in total, with the number of around 5000 Christians in the North.
From 1988 to 2009, God has given the passion to His work in the North. The Bible institute was set up in Hanoi. Many Ethnic minority people got chance on listening to Gospel via radio and they decided to follow Jesus. Many new churches were set up, and training people to serve was focused. There have been many people participating in sharing Jesus' love. A long with prosperity of the local churches, God sent many clergymen, preaching group from many places to help and coordinate to serve God in Vietnam like Korean church, who has prayed and coordinated for over 10 years. Besides, there are ones from USA, Thailand, Japan who have prayed and coordinated to help churches in the North.
III. Today Evangelical Church of Vietnam (North).
So far, E Church of Vietnam (North) has over 15 Pastors, missionaries, volunteer missionaries, 23 students are trained in Ho Chi Minh City to be pastors. 120 Missionaries are trained in Hanoi. There are around 1000 leaders.
There are 535 churches and around 1000 groups (among them, there are more than 200 groups were approved by the government. According to the authorities, the others will be approved in 2010. The number of Christians belonging to the General Evangelical church is around 200 000 in 24/30 provinces (Hanoi, Ha Nam, Thanh Hoa, Nghe An, Ha Tinh, Nam Dinh, Thai Binh, Hai Duong, Quang Ninh, Hai Duong, Bac Giang, Hoa Binh, Vlnh Phuc, Thai Nguyen, Ha Giang, Tuyen Quang, Lao Cai, Lai Chau, Dien Bien, Som La, Yen Bai, Bac Kan, Cao Bang Lang Son), It includes ten peoples such as Kinh, Hmong, Dao, Tay, San Chi, Lo Lo, Pa Then, Lung, Xuong, Kho Mu ( approximately 90% Hmong people).
THE STATISTICS (2015)
535
Total Organized Churches
Total Unorganized Churches & Church Planting
213K
Total Inclusive Membership
20
Licensed Ministers (Unordained)
Missionaries / International Workers
Number of Bible Colleges & Seminaries
Number of TEE (Extension) Programs
23
Total Residential Students
120
Total TEE Program's Students
Include more lines for other statistics