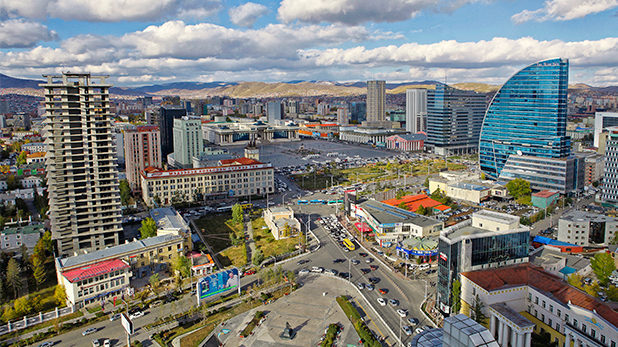 Mongolia
Mongolia Alliance Church
President: Rev. Dawaadorj Tserendavaa
The C&MA Church in Mongolia is a very young church. The first C&MA missionaries arrived in
country in 1997. The first C&MA church was planted in 1998. Since then it has grown to 12 organized churches and 6 new church plants or groups. The majority of the church members and church leaders are first generation believers. All churches are served by part-time workers involved in tent making ministries. There are 22 half and full-time licensed or ordained workers.
Challenges
Tibetan Buddhism, Shamanism, and a unique Mongolia folk religion consisting of a syncretistic blend of these two religions present a special challenge to the church. To some extent Mongolian national identity is tied into Buddhism. Shamanism experienced a revival, and the church lost members as well as leaders who became shamans.
Government conduct policies that require an equal number of Buddhist churches and Christian church in Mongolia. This causes fewer organized churches be registered with the government as religious organizations. The government registration must be renewed annually. Due to government restrictions and subtle, sometimes even blatant, persecution by some government authorities and politicians these annual extensions make the situation for the churches very precarious. Some churches have even been closed by the government. Many churches function as house churches or groups. In light of this the Mongolian C&MA
Church as a denomination cannot be registered as a church, but has been organized and is registered as a membership NGO. Lhawgasuren Munhuu currently serves as the chairperson of the board of this NGO, which would be similar to the position of president of the church in other countries.
Church Planting
Praise the Lord for slow, steady growth. Compared with the past, people's view of Christian church is positive. Mongolian believers' example of life is an important witness for the community and respective family members.
A strong church planting movement and various holistic missional ministry projects are resulting in new believers and new communities of faith being formed. Discipling remains a challenge. Ongoing, in-depth discipling to help believers grow in Christlikeness and to remain faithful is a struggle in many of the churches. A new focus on discipling and small groups ministries hopes to effectively deal with this challenge.
Most of the churches are very poor and struggling financially to survive. None of our churches are financially able to support a full-time pastor. Very few churches have facilities and many meet in the homesof believers. The Mongolian Alliance Church NGO is now using mercy ministries to assist the churches by offering community services such as celebration recovery, financial freedom, family counseling and education & community centers.
Theological Education and Leadership Development
The majority of the church leaders have little ministry training. Until 2008 there was no formal
training program, and training happened on an ad-hoc and non-formal basis. Our church leaders could not attend any of the existing Bible schools because this would require 2-4 years of full-time study. They would have to leave families, jobs, and ministries to undergo training. In 2009 the Kingdom Leadership Training Center opened its doors, and offers an alternative program that enables church leaders to be trained while remaining in ministry, and without leaving their families and jobs. This Alliance school offers a Certificate, Diploma and BTh in Christian Leadership. It also offers a Certificate in Contextual Ministry. So far (21) Alliance church leaders graduated from the Certificate in Christian Leadership Program, eight (8) from the Diploma program, and two (2) from BTh. In school year 2015-2016, nine (9) are enrolled in the Certificate program, they are graduated in July 2016. KLTC is an associate member of the Asia Theological Association (ATA) and was accredited with ATA in April 2016.
International Workers
A multicultural team of 14 C&MA international workers are currently working in Mongolia. They are involved in church planting, theological education, and a variety of holistic missional ministry and community development projects. Due to government restrictions, International Ministries of the C&MA of the USA organized and registered an international NGO, called CAMA Services International Mongolia, to enable and facilitate work in country. Pastor Jason H Lee is the director of this NGO and Pastor Erik Wahlen is the team leader for this team of international workers.
2016 C&MA OVERSEAS CHURCH STATISTICS (2016)
12
Total Organized Churches
6
Total Unorganized Churches & Church Planting
660
Total Inclusive Members
4
Licensed Ministers (Unordained)
22
Total Ordained Church Workers
17
Missionaries / International Workers
1
Number of Bible Colleges & Seminaries
Number of TEE (Extension) Programs
31
Total Students (2009-2016)
9
Total Residential Students 2016
Total TEE Program's Students
22
Number of church leaders
94
Number of church workers
1
Theological Schools (of any level)are operated by national Church
9
Enrolled Students in these schools during the year
Missionaries sent from national church 2016
Countries they are serving
Prayer Items
Pray for:
The new Mongolian leaders of Mongolian Alliance Church NGO and C&MA.
Development of Mongolian church to maturity and independence and church leaders to grow in their walk with God.
Mongolian churches to be missionally minded and send out workers to reach other areas of Mongolia as well as internationally.
Young churches to grow, especially in the central province of Mongolia.
People who have heard the Gospel to respond and persevere in the faith.
Pray for the various challenges mentioned above. Pray especially for greater openness from the government.
Discipleship within churches that would enable believers to grow mature and remain faithful to Jesus Christ
Reaching the youth and for the development of effective youth ministries.
Pray for Mongolian socioeconomics and politics: Unemployment and alcohol causes families to be separated and the abandonment of children is increasing in Mongolia.