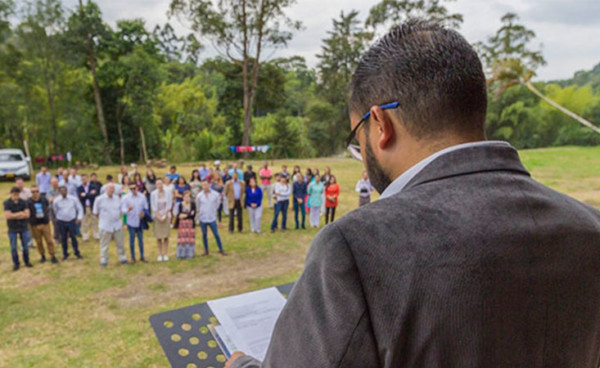 On Thursday, January 26th, we celebrated, with a moving ceremony, the grand opening of the A.B. Simpson Missions Training Center, an accomplishment that moves us one step closer to fulfilling the Great Commission. From this center, men and women will be sent out to bring the hope of the Gospel of Jesus Christ to the world.
At the dedication, many gave testimony to all that has been done and expressed their gratitude to God for his blessing:
"A.B. Simpson is the culmination of a dream and process in which the Lord has allowed us to be instruments in his hands. God has called us and commissioned us for a huge project. We delight in seeing how God is raising up a new generation of Alliance members and how this Missions Training Center will be part of God's kingdom building work that will extend to the very ends of the earth." – Iván Bonilla, C&MA Colombia National Director of Missions
"This center represents the visible hand of God at work. This is the greatest opportunity that this and future generations of C&MA have to further the Gospel where God has us." – Esnilder Popo, member of the Alliance National Board of Directors

"God calls us to be ready to defend our faith. That is what makes the start of this project so important. This center is an incredible opportunity to make an impact, and this is just the beginning of the bigger and better things that God will do in the coming years." – Bernardo Arteaga, Pastor of the C&MA church in Neiva Centro
God has used many people in the A.B. Simpson building project and has provided many the privilege of donating to this project. Now, those involved are experiencing the joy of seeing firsthand the faithfulness of God.
"Giving to missions is a privilege. Today, my heart burned within me considering, 'Who are we that God uses us as instruments of blessing in those who will go forth to preach the Gospel to the nations?' I feel so grateful that it has pleased God to use us as instruments in His kingdom-building work. God provides us that opportunity when we open hearts to be obedient to Him." – Donor

"It is a privilege to participate in this historical moment and to see prayers answered and God-driven dreams fulfilled. This is the apparent response to persistent and sincere prayer. May God receive all the glory and honor for this center. We have spent a long time praying passionately for this project and today is the answer and the fulfillment of the dream we have had." – Marcela Monroy, member of the C&MA church Vida Armenia
Many of the event participants had a very special experience in seeing their spiritual dreams become a reality. One of these was Nohora Tovar, a woman who led the Women's Ministry a couple years ago when the Women's Ministry decided to support a missionary in El Charco, Nariño. This experience led them to ask God for the opportunity to not only send a missionary, but to also provide a place to train many more to be sent out. Today at the dedication, she was able to give thanks to the God who is able for the opening of the A.B Simpson.
"The dreams of God's heart are far beyond our comprehension, and yet He allows us the privilege of participating in small ways in his greater plan. It's exciting to see how God took a dream that seemed so far off, with so many closed doors, and with time opened new doors with people willing to partner with us like the University of Palm Beach Atlantic, We Are Life, Nyack, the United States C&MA and in Colombia, the commitment of the whole Alliance family in supporting the Great Commission and giving of their end of the year offering.

It has been so worthwhile to see how each of these small steps is moving us toward something that will make a lasting difference." – Edwin Guzmán, Director of the Department of Projects and Partners
God is bringing and will continue to bring more willing hands to support the growth and development of this center, like He has already done with the foreign teachers. One of them, Larry Willard, shared this message with the Alliance Family: "You guys at A.B. Simpson are taking the first steps down a long road that is sure to lead to something glorious, which is exciting because what is accomplished here will have a significant impact on God's kingdom building work. You have a beautiful and broad vision, which is why I have decided to join this process and help each one here take the right steps in advancing this work. The people here have the right attitude and huge hearts, and this is what the Lord is sure to bless."
Courtesy of C&MA Colombia